So I'm not a very good blogger right now, obviously.
I have been a bit busy, I guess.
I made these last week:
and put them up for sale (look on the right).
I'm thinking about putting together kits for people to make their own. What do you think?

• • •

Anyway, I did clean my office. There will be no pictures, however. It's so dark and dreary in here that any after pictures would look like before pictures, if that makes sense. I call it my dungeon for a reason. There are plans to paint in here and put in new lighting (to replace the single bathroom fixture that's hanging on the far wall), so maybe I'll post before and afters once that is done.
In about three years.
• • •

I got these books last week and I'm in heaven.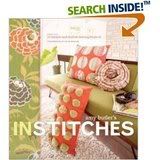 Have to say, I really love Last-Minute Patchwork and Quilted Gifts. It's a really beautiful book. I already have several projects planned out of there. And I love InStitches, too. It has beautiful projects — there are several office/household projects I can't wait to try.
I'm expecting these two next week:
Decided to buy the Simple Gifts book to join
this flickr group
. It just sounds fun.
I think I've already blogged these, but I bought these two last year: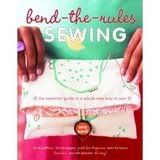 Love, love, love Amy Karol's
blog
and her book is as fun to read. I want to live in her house. Or make mine look like hers (that would probably be easier and less scary for Amy, don't you think?) Lotta Jansdotter's book has a lot of modern touches and there are several projects I'd probably never make (door stop? don't really have a problem with doors closing on me around here) but I like the aesthetics of the book.
So I've got plenty of inspiration hanging around.
Just need to get going.
And warning to family and friends? You'll probably be getting handmade items this year for birthdays. Unless I know you want a store-bought item. Just let me know in advance, k?