Don't look if you don't want to know what I sent!

The package is in the mail.
I sent it tonight.
I just can't wait to show what's in it.
Because I haven't been crafty lately and if I post about this, I seem crafty.
And that's what's important, right?
The appearance of craftiness?

Just warning you, Emily.

Don't look.

I'm trying to waste space so none of the pictures will appear at the bottom of the screen.

So that scrolling is required.

So I won't be responsible for giving away the surprise

(even though just posting this is like giving away the surprise, isn't it?)

I just wonder if Emily was one of those kids
who would search high and low for hidden presents
- even opening wrapped ones -
in which case she's probably going to scroll down,
no matter what I say.

I have a sister like that.

The fear is just that it will look better in pictures than in real life.

Or that it will look crappy in pictures and she'll just throw it away unopened.

Enough space wasted?

Good.

START OF SPOILER!

Of course, there's the apron.
I also included two place mats I made when I made the apron.
I love the Elsie's kitchen fabric I used on the patchwork and hope they will be useful, even if they are a touch wonky.
There's the panda, which I started calling Earl, made of acrylic felt, because that's what I had. And an accordion album. Because I love albums and am determined to scrapbook again, soon.
And Dr. Pepper Lip Smackers. Because I'm becoming obsessed with it and the Peppery goodness.
Four handmade note cards using some of my favorite Chatterbox paper. I used orange paper? Me? That is SUCH a surprise.
And a Halloween treat box filled with Halloween M&Ms. My son kept telling me that he was "M&M hungry" when I was filling the box.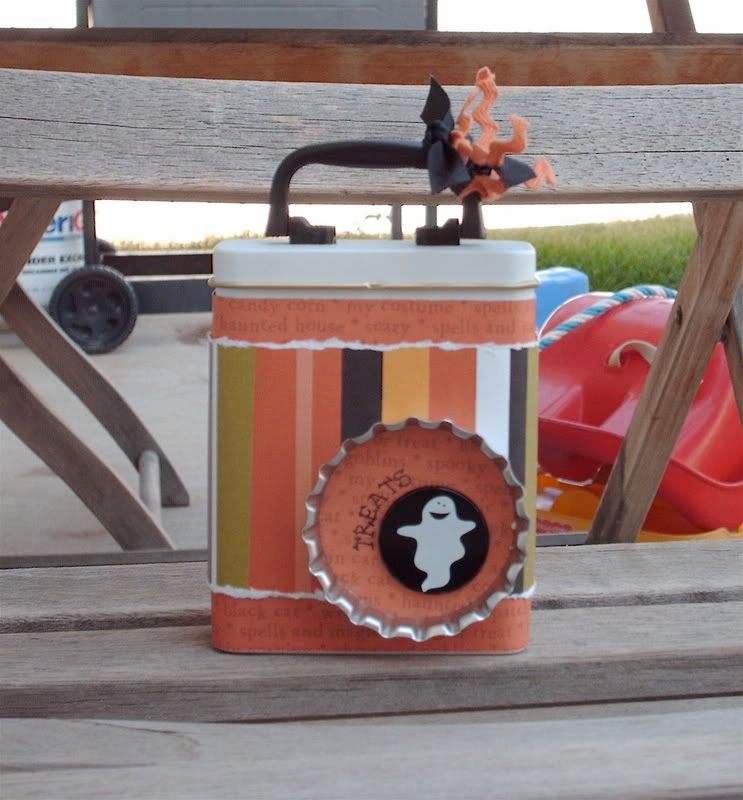 Hope 'Joyful Abode' enjoys this stuff!