I love the idea of swaps, I love seeing what others swap ... I'm just nervous when it comes to actually participating! I worry about the stuff that I'm sending - I'm just paranoid the recipient won't like it. I worry about finding the right things and basically start stressing the instant I mail things out (because, of course, I think I sent the wrong things).
I need to mellow the heck out.
So, I participated in a swap. It was a Red Velvet Art swap, and they wanted you to send your partner at least three of your favorite things, which I thought would be safe because it's MY favorite things, right? And of course, I didn't take any pictures of what I sent because this week was INSANE getting ready for school so I waited to the last minute, of course. So if my swap partner Christine posts pictures, I'll link.
But I did get some (crappy) pictures of what she sent me!
Cute paper, rubons (I love rubons!), a pin cushion and some yummy lip balm (which is funny, because guess whose package had a tube of Dr. Pepper Lip Smackers, hmm) ...
Pink fabric holding vintage sewing notions! Actual wooden spools of thread! Bias tape! Snaps!
Yes, I'm excited, because unless you manage to raid your grandma's sewing closet, it's hard to find that kind of thing around here!
Okay, and I just have to add pictures of my two absolute favorite things.
This orange gingham bias tape and zipper.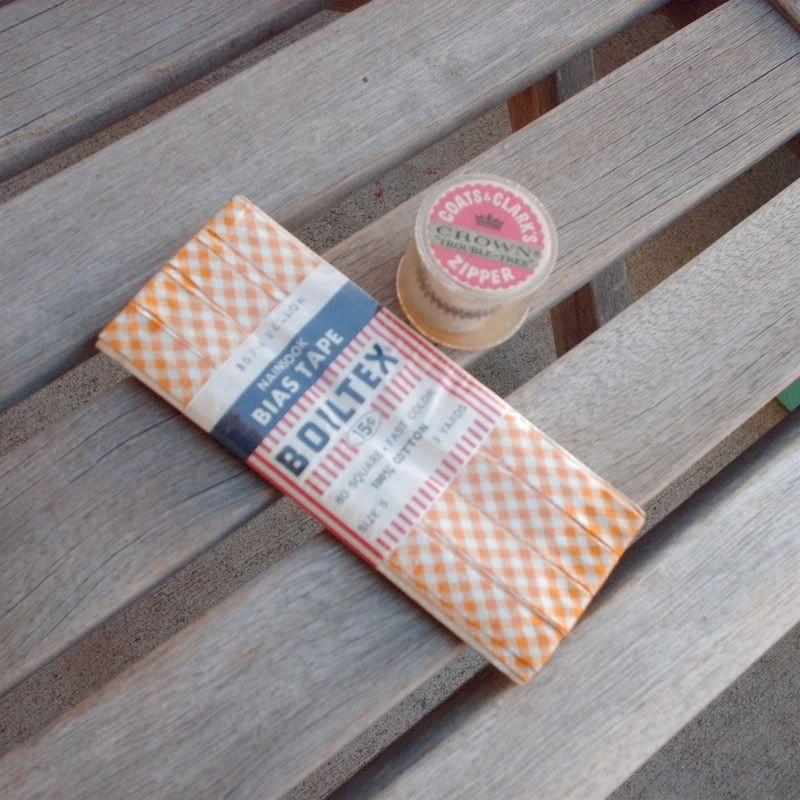 I can't even believe the cuteness of the little roll of zipper.
I wish they still packaged them that way.
And still sold them for 40¢.

So thanks, Christie! I think I might just get a hang of this swap thing!