Halloween was all about handmade this year. Which was absolutely wonderful and super stressful at the same time.
We got Jack's costume finished Wednesday night for his class party Thursday (4th graders don't get to dress up, boo!). Benson's costume, however, was finished, oh, at 6:30 Halloween night!
Els has been having some major skin issues and had four separate doctors visits within a week. She woke up Friday just miserable and would cry when you tried to pick her up unless you held her a certain way, not touching any of what were becoming open wounds. We finally got in to a pediatric dermatologist Friday and figured out she had a wicked case of eczema on her entire body and got things under control. Um, the Friday we were going to finish up costumes!
Saturday was a really busy day! First up, we blessed Elsie and her cousin, David. Ignore the faces Elsie and I are pulling in this picture. It's all about the dress, anyway!

It was so wonderful to see family and friends and bless those two sweet babies. We had a potluck lunch after that and then headed home to finish costumes. The final products?
Padawan Obi Wan Kenobi from Episode I (action shot, of course) and Anakin from Episode III (look at that face of near, but not quite, evil!)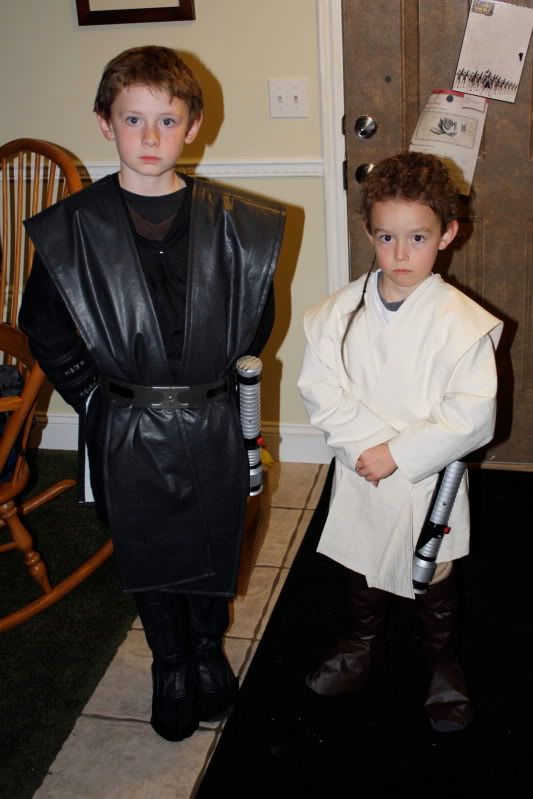 Jack even had a hair extension in for the padawan braid, thanks to our friend, Jenny the hair stylist! These are, of course, far from accurate costumes. We searched many web sites trying to get them relatively close without going crazy! While making them was a lot of stress, it was so much fun! I worked with B (hubby) on most parts. I did the sewing, he did the leather work. He spent a couple hours making Jack's belt and helping me make Benson's boots and glove.
I'll try to get a few better photos of their costumes so you can see more detail.
Elsie got in on the Halloween action, too, wearing a cute ladybug costume put together by her aunt.
Babies in tutus!

The boys looked awesome and it was a great night ... until Benson started to complain about a sore throat. So now he's sick and we're just hoping no one else joins him! We got our regular flu shots but not the H1N1, so we're keeping our fingers crossed!